Meet Andy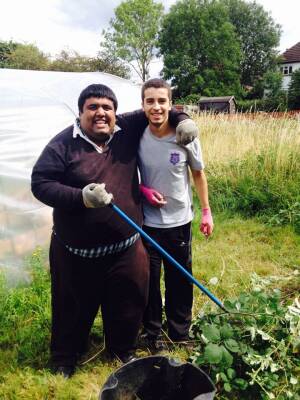 Andy, a young man with Asperger's Syndrome and learning disabilities from the Borough of Brent, now has a job he loves. It's taken time, but the success has been worth the wait …
Andy attended SEN Schools throughout his education and received additional help from teaching assistants to support his challenging behaviours. He came to Toucan Employment after being referred from the Harrington Scheme as a 'work ready' client. It quickly became clear that although Andy was a very able young man, he wasn't ready for employment. There were many areas he needed help with, including support with his social and interpersonal skills, having little concept of what work was actually like.
Toucan suggested Andy volunteered at the charity's own gardening and horticulture project in Wembley.
He was given specific tasks and responsibilities to reflect a real working environment and as a result, he learned the routine of working life, what it meant to have responsibility for tasks, and he saw first-hand the results of not sticking to this – plants dying for example.
He also learned how to interact appropriately with his peers and build friendships. These successes overlapped into his personal life. His relationship with his mother improved and he became increasingly independent.
Toucan then worked with Andy to apply for jobs, resulting in an interview at B&Q in Cricklewood.
With Andy's agreement and through discussion with the HR Manager Toucan carved out a specific role for him within the B&Q that matched his capabilities. This has been a great success and he has been working there on a 30hr contract since xxxx. Toucan gave Andy some initial on-the-job coaching to support him to learn his new role and also supported other staff within B&Q to learn how to work with him, ensuring any barriers to employment were avoided or ameliorated.
Congratulations Andy. We are so proud of you.